Great to easily
ID cables for:
• Computer equipment
• Audio/visual equipment
• Electrical wiring
• Power strip plugs
• Automotive wiring



INTERNET SPECIAL:
FREE SHIPPING
with purchase of
4 or more packages.
($1.95 shipping for
1, 2, or 3 packages.)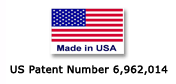 Moose Tags™ Cable Labels

Moose Tags™ Cable Labels let electronics and organization
fanatics easily mark and identify cables, cords and
electronic adapters. The easy-write surface and
flexible design of these cable labels make it simple
to label any electronic cable or cord in your home,
office or car...use them pretty much any place
you plug something in.

Organize your TV, VCR, DVD, sound system and
power cables behind your home entertainment
center.
Keep track of PC peripherals such as your mouse/keyboard, printers,
scanner, digital camera and power cords around your office or work desk.

Label power cords, cable, chargers, and extra adapters you have stored in your junk drawer and never forget what they go to. Buy Moose Tags™ Cable Labels and label your cables.

Benefits

Tie to any size cable, cord or wire no matter how small
No snapping, adhesive or wraps to come undone
Fully adjustable for a snug fit so tags stay securely in place
Strap around multiple cables to group or tidy up loose wiring
Use any marker or pen to write directly on cable label tag
Thin, flexible material makes viewing easy in crowded areas such as behind entertainment centers and network closets